CCG Recognized by St. Jude as Number One Corporate Sponsor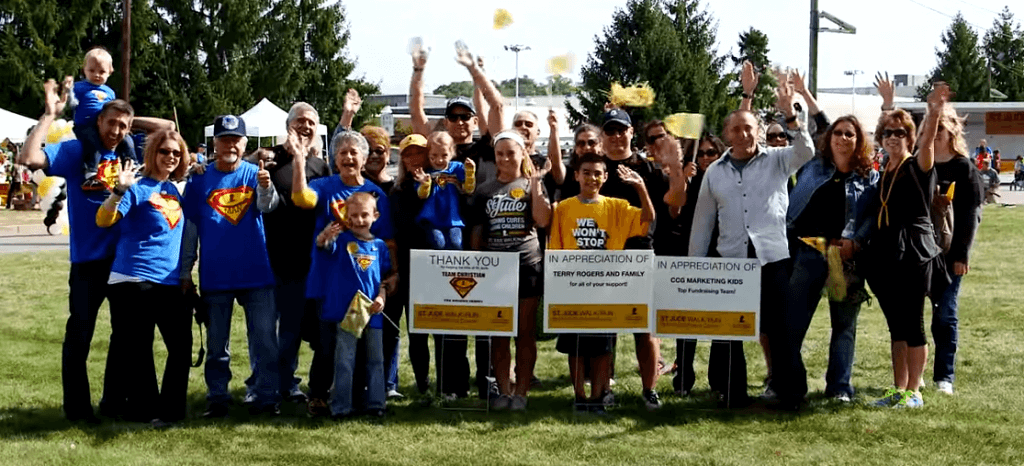 From the beginning of 2015, CCG Marketing Solutions took a leadership role in raising money for St. Jude Hospital for Children with Cancer, working closely with the Town of West Caldwell, NJ and local business and community leaders.
This year's traditional CCG July 4th Company Picnic, also known as CCG's Picnic with a Purpose, identified St. Jude's Hospital for Children with Cancer is the focus of its July fundraising effort. Working with many of CCG's partners and suppliers, as well as employees taking on a personal physical challenge by Simon Hooks (CCG, CEO), CCG raised nearly $11,000 as its first installment in its fundraising efforts for St. Jude.
Over the next several months, Bob Ross (CCG, Director of Marketing and Business Development) reached out to Henderson Drive corporate neighbors in an effort to get them involved and support the September 26th St. Jude Walk/Run for Children with Cancer. Toyota, LTS Lohmann Therapy Systems, Pella, and others participated in the effort. Ross commented that this was one of the most emotionally rewarding efforts he's ever been involved in.
CCG was recognized by St. Jude as the Number One Corporate Sponsor at the September 26th event, being instrumental in raising more than $114,000 for St. Jude, the children and their families.
https://youtu.be/JSwkCFkmcgI?t=5
About CCG Marketing Solutions:
CCG Marketing Solutions is a technology driven marketing services provider and is regarded as an industry leader in data intensive fulfillment and marketing programs.
CCG provides powerful solutions and experienced subject matter experts focused on reducing operational costs, streamlining and automating key business processes through the application of technology and best practices benchmarking, increasing speed to market, and improving ROI.