CCG Produces Personalized Sun Glass Cases for Maui Jim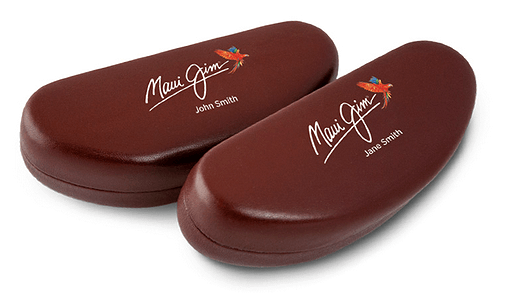 Continuing its ongoing commitment to develop new and innovative ways to drive relevance, relationship and Brand Loyalty, CCG has developed new technology enabling world-class sun glass company Maui Jim to provide personalized sun glass cases to their clients.
Maui Jim is an American-based manufacturing company whose products today are marketed and sold throughout the world.  The company launched and originally sold its products pool side at hotels throughout Maui, Hawaii. The brand was introduced in the mainland states in 1988.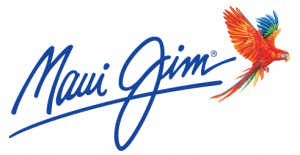 Maui Jim is in a very competitive market that contains such brands as Prada, Tiffany & Co, Coach, Versace, Bulgari, Chanel , Dolce & Gabbana, REVO, Ray-Ban, Oakley, Burberry, Chanel, Donna Karan, Polo Ralph Lauren, Tory Burch, Armani, and others.
Unknown too many people however, is the fact that virtually all these brands are manufactured and distributed by one company, Luxottica.  The Milan, Italy based comp
any has practically taken over the eyewear market from manufacturing to distribution.  Luxottica produces, distributes and sells through its more than 7,000 retail stores like Sunglasses Hut, Pearle Vision and LensCrafters around the globe.
Maui Jim was looking for a way to uniquely differentiate themselves, increase brand awareness and build loyalty.
They first contacted Simon Hooks (CCG CEO) and explained their ideas around the personalization of a unique gift that would be appreciated by the client.  Each eyeglass case would be marketing tool designed to spark a conversation and demonstrate the uniqueness of the Maui Jim Brand.
CCG's Production Team lead by Nils Redmond (VP, Business Development) worked with numerous suppliers and CCG's Internal I.T. Development Group to define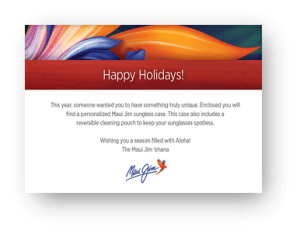 the technology and process for high-quality, cost effective personalized imprinting on the irregular shaped, leather cases.
Maui Jim was impressed with the final product and the Holiday Campaign launched in November.
About CCG Marketing Solutions:
CCG Marketing Solutions is a technology driven marketing services provider and is regarded as an industry leader in data intensive fulfillment and marketing programs.
For nearly 50 years, CCG has provided powerful solutions and experienced subject matter experts focused on reducing operational costs, streamlining and automating key business processes through the application of technology and best practices benchmarking, increasing speed to market, and improving ROI.