CCG Installs New "Fat Pipe" Technology Dramatically Increasing Internet Speed and Web Response
CCG Marketing recently completed the installation of Internet/Wide Area Network (WAN) "FatPipe" technology.
Don Giacobe (CCG's Director of I.T. Services) commented, "This demonstrates CCG's continued commitment to make strategic investments in innovation and technology further enhancing system response, performance, end-user experience and overall Customer Satisfaction".
FatPipe Networks™ is a unique and powerful technology designed to reduce web-traffic contention issues (the delay often experienced by a person while waiting for the system to respond), by dramatically improving the response of internet-based requests.  The bandwidth is increased for end users by aggregating multiple lines of similar or disparate speeds along with providing higher levels of security.
FatPipe technology puts together multiple data lines of any speed and as well as data from multiple Internet Service Providers (ISP's). Additionally, FatPipe automatically, intelligently and seamlessly switches between lines for VPN, Thin Client, VOIP and Video sessions should an ISP's physical lines or components unexpectedly fail.
FatPipe can aggregate line speeds up to 10 Gigabit per second (GB//s) making it the most robust product in the world for multi-line redundancy and reliability.
Recently, while managing a Pantene Shampoo Facebook Sampling Program for P&G for a $5.00 coupon, CCG received and served more than 10,000 internet-based requests within the first 90 seconds of the program launch.  For the next five hours of the Facebook offer, P&G added more than 100,000 satisfied users to their Facebook page.  Throughout this campaign, CCG's web systems seamlessly and efficiently handled this incredible amount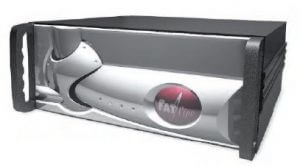 of simultaneous web traffic.  What is perhaps more incredible is that the requestor saw virtually no delay in system response after clicking his or her mouse.
FatPipe is the only technology that provides Multi-Line WAN Optimization, increasing the effective bandwidth between 4 -10 times by accelerating traffic over multiple lines using compression, caching, Quality of Service (QoS), and de-duplication techniques.
FatPipe's technology creates a highly resilient, secure and efficient network for CCG and its customers.