CCG Certified by American Institute of Baking (AIB) International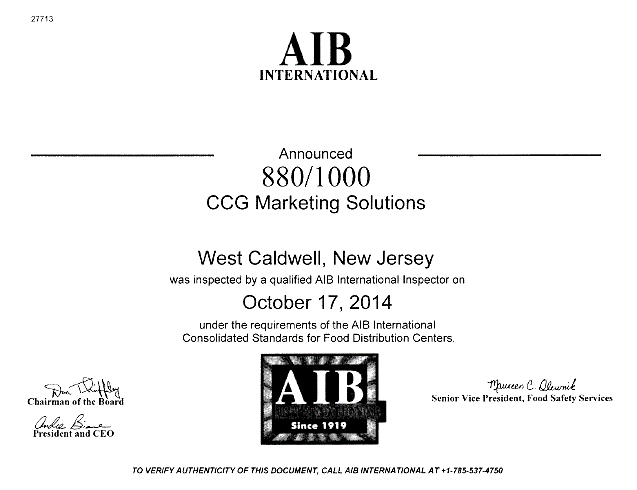 CCG Marketing Solutions is proud to announce that on October 17, 2015; AIB awarded a score of 880 to CCG after completion of their rigorous inspection and audit process.
For more than 60 years, The American Institute of Baking (AIB) International has been the industry recognized leader in ensuring that quality standards are maintained by companies handling food, and food products; and in the development and ongoing maintenance of food safety programs throughout the world.
AIB's comprehensive auditing process focus on GMP (Pharmaceutical/FDA Good Manufacturing Practices) Inspection and certifications under the Global Food Safety Initiative.
GMP Inspections are based on a widely-recognized set of standards that define the requirements of a superior food safety program, and are recognized by food companies as a measure of qualify for business worldwide.
Comprehensive GMP Inspections evaluate:
Operational Methods and Personnel Practices
Maintenance for Food Safety
Cleaning Practices
Integrated Pest Management
Adequacy of Prerequisite and Food Safety Programs
According to AIB, a score of 880 is exceptional and demonstrates CCG's commitment to doing all that can be done to provide a clean safe environment for food handling and products, and is a source of pride providing CCG a competitive advantage.
The successful AIB audit provides added confidence in CCG's processes and facilities for managing food distribution and sampling projects on behalf of our CPG clients.
We are very pleased to have the feedback and approval of the AIB among our growing list of external accreditations.
About CCG Marketing Solutions: 
CCG Marketing Solutions is a technology driven marketing services provider and is regarded as an industry leader in data intensive fulfillment and marketing programs.
For nearly 50 years, CCG has provided powerful solutions and experienced subject matter experts focused on reducing operational costs, streamlining and automating key business processes through the application of technology and best practices benchmarking, increasing speed to market, and improving ROI.