CCG Adds Additional Large Format Finishing to its Trade-Show and Events Management Division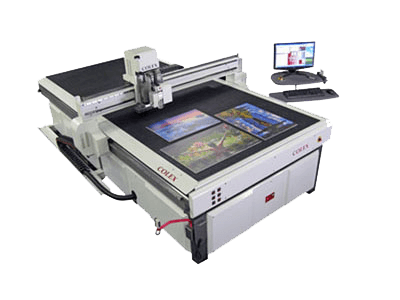 CCG Marketing Solutions (CCG) is pleased to announce the addition of a COLEX SHARPCUT finishing system to its burgeoning Wide Format, Trade Show and Events Management Division.
This initiative was consistent to CCG's vision and direction to support its clients by providing innovative, seamless, end-to-end, value added solutions that are fully integrated into its on-demand web store.
CCG supports the design, warehousing, print, manufacturing, and fulfillment of in-store displays, trade show materials, product launches, training programs, and much more.
CCG saw the difficulty, frustration, and myriad of suppliers that clients coordinate to support a trade show or event. An even bigger problem is encountered at the conclusion of the event.  CCG receives damaged, soiled and displays with missing components.   This had to be addressed for these expensive materials to be re-used for a subsequent event.
CCG's response is to provide a single point of contact for all event management and coordination. Moreover, CCG developed a powerful, flexible, easy to use web-based software platform that allows Corporate Event Planning Managers, Sales Reps., and other approved personnel to calendarized and schedule all their events.  They can also place all the materials needed such as literature, displays, promotional items, etc. for an event into their virtual "shopping cart". These items are normally shipped from different suppliers from different locations. With CCG's Trade Show & Events Management System, everything required is consolidated, shipped, and tracked ensuring delivery to the venue when needed.
The newest addition to CCG's large format equipment line up (COLEX's Sharpcut Conveyor) is the most productive solution for automated finishing of wide format media and can be used for a variety of applications. The conveyor system speeds the process of cutting soft to rigid boards, vinyl, fabric, and textiles, and enables finishing with intricate cuts while operating in a fully automated mode.
Ben Ritacco (CCG's Director of Large-Format Print) commented, "The addition of the new COLEX SHARPCUT System has dramatically increased our productivity and has provided our client's with a true end-to-end solution. Just recently we printed, cut, packed and shipped hundreds of intricate free standing displays to a client's dealerships. The entire process took only several days".
About CCG Marketing Solutions:
CCG Marketing Solutions is a technology driven marketing services provider and is regarded as the industry leader in data intensive fulfillment and marketing programs.
CCG provides powerful solutions and experienced subject matter experts focused on reducing operational costs, streamlining and automating key business processes through the application of technology and best practices benchmarking, increasing speed to market, and improving ROI.